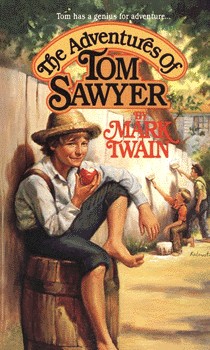 I am going to write about The Adventures of Tom Sawyer. It is a novel written by Mark Twain in 1876. It is about a young boy who grows up along the Mississippi River and it is set in the 1840s in the fictional town of St Petersburg, inspired by Hannibal, Missouri, where Twain spent his childhood. He used his own happy memories in Hannibal and real events from his childhood to create the right background. Indeed, The Adventures of Tom Sawyer has been popular with people of all ages since it was written. Maybe this is because everybody can identify with the life of a typical small town and look back to their childhood.
According to the characters, my favourite one is Tom Sawyer. He is an average boy and he is thought to be a rascal, but he has a good heart too. During the novel, he becomes earnest and responsible. Other important characters who appear are Huck Finn and Joe Harper; both of them are Tom's best friend. And so does Becky, who is Tom's sweet love. They even get engaged. And Polly, who is Tom's aunt. She brings him up after the death of Tom's mother.
What about the author? Mark Twain (1835-1910) was the name used by the American writer, Samuel Langhorne Clemens. After the death of his father, he had to leave the school and go to work. He started to write for a newspaper, so he moved to St Louis, Philadelphia and New York. Later, he returned to the Mississippi and became a river pilot. The name Mark Twain was taken from words the boatmen shouted when they reached safe water on the river. He wrote a book, Life on the Mississippi, about this happy period of his life. In 1869, he wrote The Innocents Abroad, which is about a voyage through the Mediterranean Sea. It gave him his place among the best writers of the time. He married and raised a family of three daughters. After a trip to England, he wrote one his most popular stories, The Prince and the Pauper. In 1876, he wrote The Adventures of Tom Sawyer, followed in 1885 by The Adventures of Huckleberry Finn. In his last years he suffered the loss of his wife and two of his daughters. As a result, he became bitter and cynical, which he showed in his later writing.
All in all, I think that this novel is a great book to read for anyone who loves classic stories. It reminds me of my childhood, when I spent hours and hours out door playing with my friends. It was such a good time! We wanted to feel free and independent. We always wanted to be spies or police officers. Now life has changed a lot. As I see it, currently children don't enjoy their free time as much as children did twenty years ago. Nowadays, they prefer to stay at home playing video games. Personally, I wouldn't change any aspect of my childhood, this time will never return.